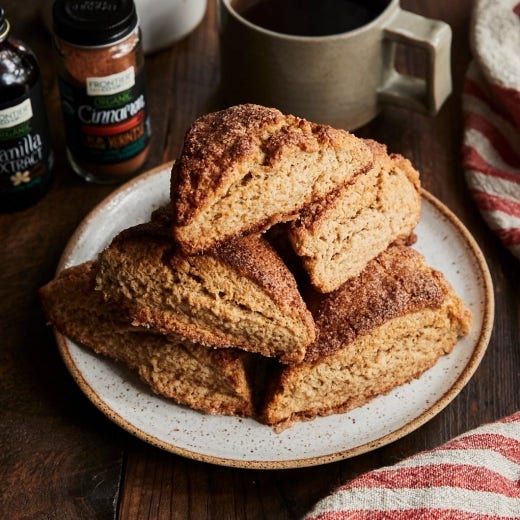 This cinnamon scone recipe yields a delightful, slightly sweet pastry that pairs nicely with a cup of tea or coffee. These scones also freeze well and can be stashed away in your freezer for later eating.
Directions
Preheat oven to 425 degrees and cover a baking sheet with parchment paper.
In a medium bowl, combine flour, 1/2 cup sugar, baking powder, sea salt and 1 teaspoon cinnamon. Using your hands or a pastry cutter, cut butter into flour mixture until small pea-sized pieces form.
In a separate bowl, whisk together egg, vanilla extract and heavy cream.
Make a well in center of flour mixture and add egg mixture, combining into a shaggy dough and avoiding over-mixing. Turn out dough onto a floured surface and press dough into a rectangle, about 1 inch thick and 3 inches wide. Using a knife or bench scraper, cut into 8 squares or triangles.
Place scones 1 to 2 inches apart on baking sheet and brush with heavy cream. Bake scones for 18 to 20 minutes, until firm to the touch and golden. Meanwhile, in a small bowl, combine remaining 2 tablespoons cane sugar and 1/2 teaspoon cinnamon.
Remove from oven, sprinkle with cinnamon-sugar mixture and transfer to a rack to cool.