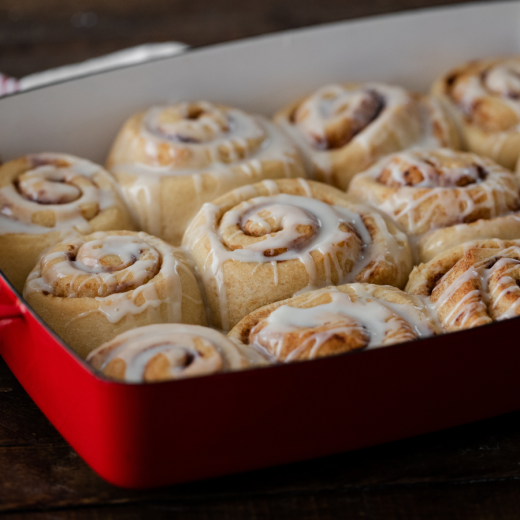 Soft, warm and delicious, these made-from-scratch cinnamon rolls featuring the can't-miss flavor of our Vietnamese Cinnamon and real Vanilla Extract are worth every minute to make.
Directions
In the bowl of a stand mixer with dough hook attached, combine milk, yeast and maple syrup. Let rest for about 5 minutes, until yeast shows signs of bubbling/activation, then add remaining ingredients for the dough.
Turn mixer on again and knead dough in mixer for 5 minutes, scraping down sides as needed. When kneaded, dough should feel tacky but not sticky. Remove bowl from mixer and place in a warm spot; cover with a towel and let dough rise for about 1 hour, until doubled in size.
Turn dough out onto a floured surface and roll into a large, ½-inch thick rectangle. Spread melted butter over dough and sprinkle with sugar and cinnamon.
Starting with edge closest to you, roll dough into a log. Using a knife, cut log in half, then cut each half into six cinnamon rolls. Transfer to a 9-x-13-inch pan.
Place pan in a warm spot, cover with a towel, and let rest until rolls have puffed and nearly doubled in size. Preheat oven to 375 degrees.
Bake rolls for 20 to 22 minutes, until starting to brown. Combine powdered sugar, milk, and vanilla, whisking into a smooth icing.
Let rolls cool for five minutes, then drizzle on icing. Serve immediately. Rolls can also be reheated to serve the next day.