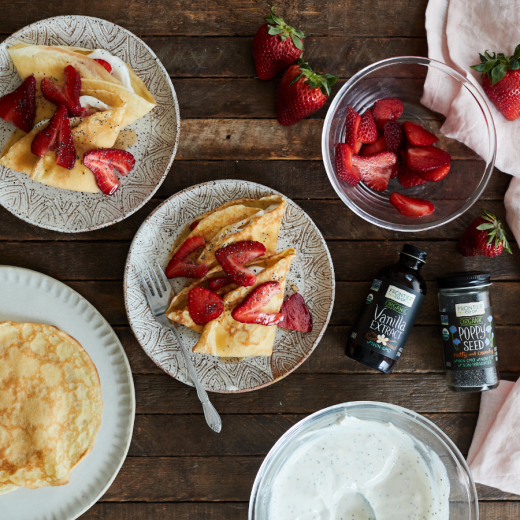 Crepes with Vanilla Creme and Strawberry Poppy Seed Filling
A delicious breakfast or dessert, these crepes are made with simple ingredients and filled with an easy greek-yogurt/vanilla filling.
Directions
For the crepe batter: In a large bowl, combine flour, sea salt, eggs, milk, butter and 2 tablespoons maple syrup. Whisk/stir until smooth. Heat an 8-inch non-stick pan over medium-low heat.
Place a scant ¼ cup of batter in pan. Swirl the pan so batter covers entire bottom of pan in a thin layer.
Cook for about 1 minute, until edges begin to peel away from sides of the pan and look golden. Flip and cook for another 30 seconds. Layer crepes on a plate, continuing until all batter is gone.
While crepes are cooking, make the Vanilla Crème: In a small bowl combine Greek yogurt, vanilla extract, poppy seeds and remaining 2 tablespoons maple syrup; stir to combine.
Assemble the crepes: Spread a thin layer of filling over each crepe along with a couple strawberry slices. Fold crepes and repeat with remaining crepes and filling. Divide crepes onto four plates and top with remaining strawberries, poppy seeds, and a drizzle of maple syrup.
Recipe Tip:
Use blueberries or raspberries in place of strawberries, depending on the season.