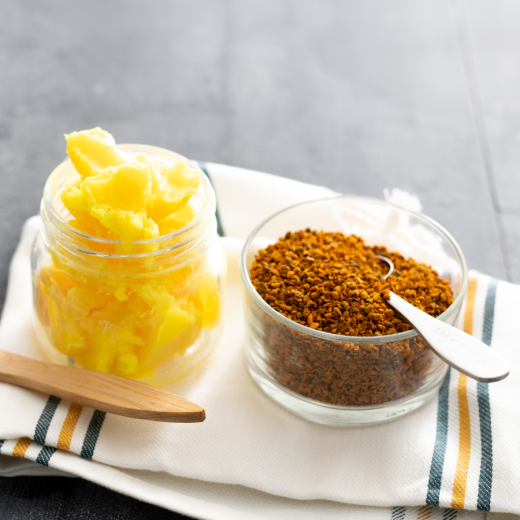 Add flavor, spice and aroma to ghee for a delicious and easy way to add turmeric to curries, stir-fries, rice, bagels, bulletproof coffee, baked goods and more. Use anytime you'd use butter.
Directions
Melt two sticks of butter in a heavy-bottomed saucepan over medium-low heat (3 to 5 minutes). Use a spoon to scrape off the solids that rise to the top.
Add turmeric and salt. Continue to simmer over medium-low heat until color begins to change from yellow to a golden amber (about 8 to 10 minutes).
Remove from heat and allow to cool for 3 to 5 minutes. Pour through a fine-mesh strainer or cheesecloth into a resealable container. Refrigerate for 15 minutes or more to harden.
Recipe Notes:
This DIY clarified butter infused with turmeric has a higher smoke point, which means it is ideal for high-temperature cooking, saueting and searing.