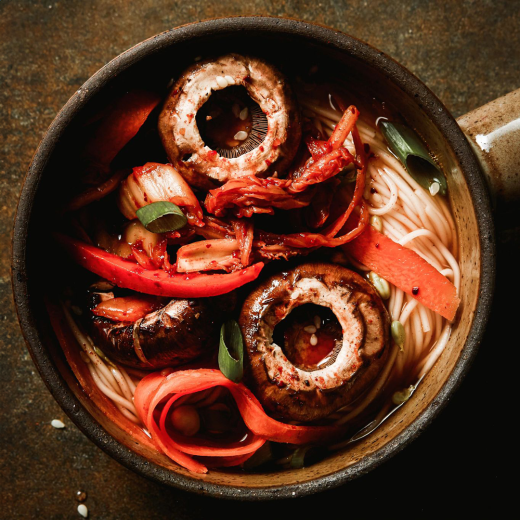 Savor the spicy-sweet, slightly smoky taste of Gochugaru and other Asian flavors as they infuse crisp raw vegetables in this kimchi recipe that you can enjoy the same day you make it.
2 pounds Napa cabbage, washed, de-stemmed, and cut into small squares
1½ cups cold water
¼ cup Frontier Co-op® Kosher Flake Salt
6 cloves garlic, minced
¼ cup Frontier Co-op® Gochugaru
1 tablespoon fish sauce
½ tablespoon Korean soy sauce
1½ tablespoons Korean pear juice
2 carrots, peeled and cut into small sticks
1 bunch scallions, quartered
1 cucumber, ribboned or thinly sliced
Directions
Place prepared cabbage in a large bowl.
In a small bowl, combine cold water and Kosher salt, mixing well to dissolve. Pour over cabbage, press down to submerge, and allow to soak for at least one hour, or overnight.
Make gochugaru paste: Combine minced garlic, gochugaru, fish sauce, soy sauce and pear juice. Mix well to form a thick but slightly loose paste.
When cabbage has finished brining, drain and rinse very well with cold water to remove any excess salt. Drain off remaining water and return cabbage to bowl. Add carrot, scallions and cucumbers, and toss to combine. Add gochugaru paste and mix well to coat everything evenly. Taste and add a pinch more salt if desired.
Transfer kimchi and any remaining liquid to small mason jars. Be careful not to fill jars all the way to the top — give the kimchi room to expand. Seal tightly and keep refrigerated until ready to use.
NOTES
If you can't find Korean pear juice, you can substitute with the juice of a Bosc pear.
The kimchi ferments as it sits longer. Try one to three days at room temperature for quick results, or two weeks in the refrigerator — or follow the directions of your favorite fermentation expert.