ENJOYING ELDERBERRIES
The tart flavor of Elderberries makes them perfect for use in jellies, jams, syrups, relishes, chutneys, juices and alcoholic beverages. Elderberry jelly makes a delicious cake glaze. Perk up a vanilla cake by warming up elderberry jelly and glazing between layers and on the top of the cake.
Making syrup is also a popular use of elderberries. Not only is it delicious on pancakes, it can be used to make popsicles and top ice cream too.
Elderberry syrup is also used to make cocktails. Add it to gin or vodka and seltzer water, with other ingredients such as sugar, ginger, fresh basil or peppermint, and lemon or lime juice and zest.
The berries are sometimes used cosmetically, too — they yield a rich blue and purple dye that can be used to dye hair.
Elder is an herb that has been held in esteem since ancient times — you'll find both the flowers and the berries lauded by chroniclers from Hippocrates to Native Americans. More recently, elder was chosen Herb of the Year for 2013 by the International Herb Association, so it hasn't lost its mojo in modern times, either.
Elder belongs to the genus Sambucus. The woody weed found along farms in the central and eastern U.S. is S. canadensis, while S. nigra is the species native to much of Europe. (The native European plant is now naturalized in some parts of North America.)
Read on, below, for more information and recipes.
RESPONSIBLY SOURCED ELDERBERRIES
Our elderberries come from our Well Earth* partner in Bulgaria who supplies a number of herbs that are grown on small farms or responsibly wildcrafted. Our elderberry sourcing is a great example of the mutually beneficial partnerships we build with our suppliers.
We work closely with our Bulgarian partner and our personal, long-term relationship with them has enabled us to improve quality and increase the availability of organic elderberry.
We recently helped fund their purchase of a color sorter to help them meet the skyrocketing demand for elderberries. The color sorter greatly increased our supplier's production capacity and provided us with better quality elderberries of more consistent size and vibrant color.
*Well Earth is Frontier Co-op's sustainable sourcing program to find and develop ethical suppliers of high-quality botanical products from around the world. We're committed to supporting small farmers who share our values of sustainable agriculture and fair business practices — here in Bulgaria and around the world. We provide grants to Well Earth partners for training and improvements in their operations. And, with the guidance of our partners, we fund projects to improve life in the communities where our products are grown.
Excited to try elderberries but don't know where to start? We have two recipes below to get you started.
ELDERBERRY SYRUP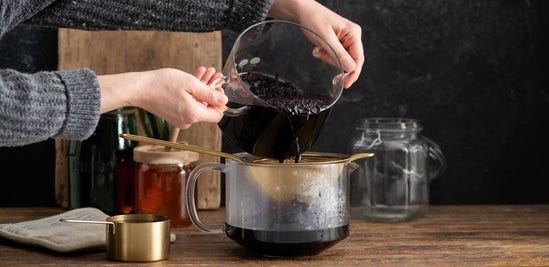 INGREDIENTS
1 cup Frontier Co-op Elderberries
3 cups Water
1 tablespoon Frontier Co-op Ginger
1 tablespoon Frontier Co-op Cinnamon
1 tablespoon Frontier Co-op Ground Cloves
1 cup Honey or Agave
DIRECTIONS
1. In a sauce pan with lid, place 1 cup of dried elderberries and 3 cups of water. If desired, stir in 3 tablespoons of any combination of powdered ginger, cinnamon or cloves.
2. Bring to a boil. Reduce to a simmer, partially covered. Stirring occasionally, simmer until liquid is reduced by half.
3. Remove from heat, let cool and pour through strainer (discarding berries & cloves).
4. Stir in a cup of honey or agave syrup.
5. Pour into a jar with lid and store in refrigerator for up to two weeks.
ELDERBERRY GUMMIES
INGREDIENTS
1 cup elderberry syrup
1/4 cup gelatin powder or Frontier Co-op Agar Agar Powder
1/2 cup hot but not boiling water
Silicone gummy bear molds
DIRECTIONS
1. Place 1/4 cup cooled elderberry syrup in small bowl and quickly whisk in the gelatin powder until dissolved.
2. Add hot water and stir quickly until smooth.
3. Add remaining elderberry syrup and whisk until completely smooth.
4. Pour into molds and place in fridge for 1-2 hours or until completely firm.
5. Pop out molds and store in airtight container with parchment paper between layers