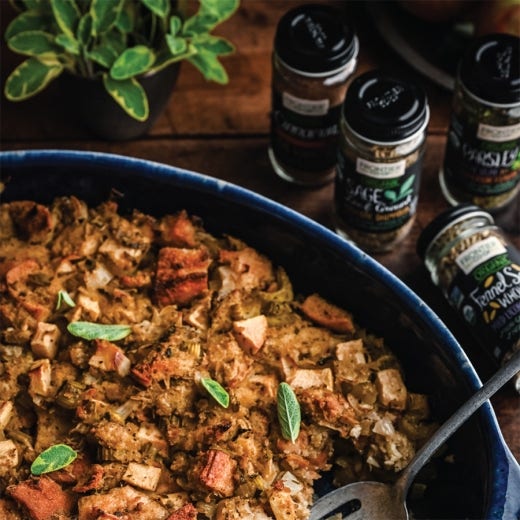 Savory meets sweet in this stuffing with substance, including Honeycrisp apples — or your own favorite — Frontier Co-op® Ground Sage, and a backdrop of toasted Fennel Seed.
10 cups (about 1.5 pounds) day-old or toasted bread (Italian or sourdough bread suggested)
4 1/2 teaspoons Frontier Co-op® Parsley, divided
4 1/2 teaspoons Frontier Co-op Ground Sage, divided
2 teaspoons Frontier Co-op® Sea Salt, divided
1/2 teaspoon Frontier Co-op® Black Pepper, divided
1/4 cup olive oil
3/4 cup butter
2 1/2 cups celery, sliced
2 1/2 cups yellow onion, diced
2 1/2 cups apple, peeled and diced into 1/2-inch cubes (approximately 2 large Honeycrisp apples)
1 tablespoon fresh garlic, finely minced
1/4 teaspoon Frontier Co-op® Cinnamon
1 1/2 teaspoons Frontier Co-op® Whole Fennel Seed
2 cups reconstituted Frontier Co-op® No-Chicken Broth Powder or Frontier Co-op® Low-Sodium Vegetable Broth Powder
2 large eggs, lightly beaten
Directions
Preheat oven to 350 degrees.
Cut bread into 3/4-inch cubes and place in a large bowl. In a small bowl or cup, stir together 1/2 teaspoon parsley, 1/2 teaspoon sage, 1/2 teaspoon salt and 1/4 teaspoon black pepper.
Gently toss bread with olive oil and spice mixture until well coated. Transfer to a baking sheet and bake for 17 to 20 minutes. Remove from oven and set aside.
Increase oven temperature to 375 degrees and grease a 9-x-13-inch pan.
In a large pot, heat butter over medium heat. Add celery, onion, apples and garlic along with remaining parsley, sage, salt, pepper and the cinnamon. Cook, stirring once or twice, for about 8 minutes, until vegetables soften.
While vegetables are cooking, in a small, preheated dry pan over medium heat, toast fennel seed for about 2 minutes, shaking pan frequently and watching so it does not burn. Add toasted fennel to vegetable mixture in pot.
Add seasoned bread cubes to vegetable mixture, pour in broth and eggs, and stir well. Stir periodically, letting mixture sit between stirrings to allow time to soak up moisture, until bread cubes are completely coated and have softened. You want the bread to absorb all of the liquid in the pan. This will take about 5 minutes.
Pour stuffing mixture into baking dish and bake for about 40 to 45 minutes, until golden brown on top.
NOTE
To make broth: If using No-Chicken Broth Powder, add 2 tablespoons + 2 teaspoons powder to 2 cups boiling water. If using Vegetable Broth Powder, add 4 tablespoons to 2 cups boiling water. Simmer 1 to 2 minutes.