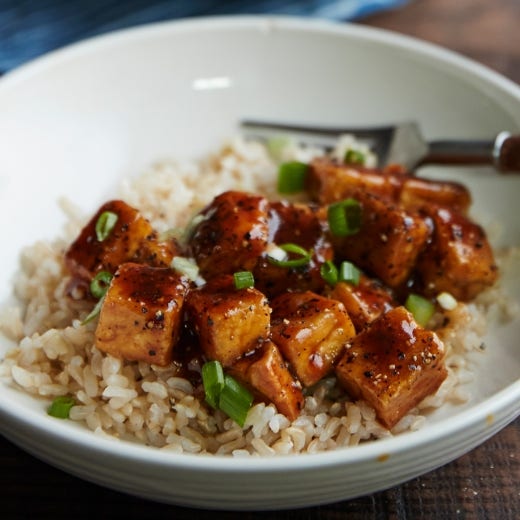 Black Pepper Tofu with Brown Rice
This hearty vegan black pepper tofu is a flavor-packed dinner. Serve with your choice of steamed vegetable to make a complete meal.
Directions
Drain tofu. Cut into ½-inch cubes and place on a clean tea towel or paper towel. Cover and let rest for 20 minutes.
Meanwhile, in a large heat-proof bowl, whisk broth powder and boiling water until dissolved. Add remaining sauce ingredients, whisk to combine, and set aside.
Rinse brown rice and place in a pot with 2 cups water. Bring to a boil, reduce to a simmer, cover, and let cook for about 45 minutes, until water is absorbed and rice is tender.
Preheat oven to 400 degrees. After the 20 minutes rest time, transfer tofu to a bowl and toss with cornstarch, garlic powder and salt. Spread onto a sheet tray lined with parchment paper. Bake for 30 to 40 minutes, flipping halfway through, until golden brown and crisp.
When tofu is almost done, transfer sauce to a pot and heat over medium heat, whisking often. Once thickened, remove sauce from heat, add baked tofu, and stir to coat. Divide rice into four bowls and top with black pepper tofu and sliced scallions.