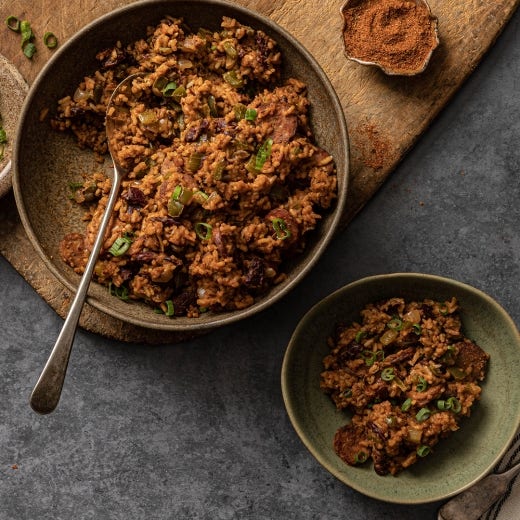 Cajun Dirty Rice and Beans with Andouille Sausage
The term "dirty" in rice and beans comes from the seasoning added to the pot while the rice is cooking, giving the traditionally white grains a brown color. This Cajun rice and beans recipe makes the seasoning easy with our Blackened Cajun Seasoning. A one-pot meal that's also easy on dishes and time — in 30 minutes, you'll have a hearty and flavorful meal on the table.
½ pack (7 to 8 ounces) andouille sausage, sliced, making just over 1 cup
2 teaspoons sunflower oil
1 small green bell pepper, chopped
½ yellow onion, chopped
2 ribs celery, diced
3 cloves garlic, minced
1 cup long grain rice
1 can red beans, drained and rinsed
1¾ cups water
Directions
In a heavy-bottom 2-quart (or bigger) pot over medium-high heat, brown andouille sausage. Remove sausage and set aside.
Lower heat to medium and add sunflower oil. Add bell pepper, onions, celery and garlic, and sauté for about 3 minutes, until aromatic.
Add rice and cook for 1 minute, stirring continuously.
Add beans, water and the cooked sausage.
Add Blackened Cajun Seasoning, and stir.
Bring to a boil, then reduce heat, cover pot and cook for 20 minutes.
Turn off heat. Leaving pot covered, let the dish rest for an additional 5 minutes.
Serve.
Chef Suggestion
Garnish with chopped green onions and a little Louisiana Hot Sauce for a nice kick.