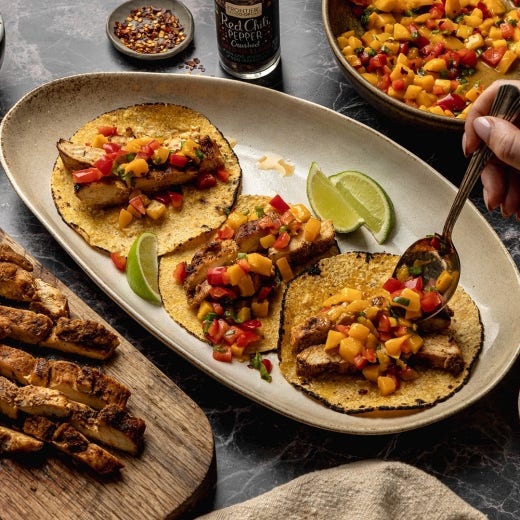 Caribbean Jerk Chicken Tacos with Mango Salsa
A fun and playful jerk tacos recipe with lots of bold flavors and fresh vibes, featuring our Caribbean Jerk Seasoning for easy, no-fail jerk flavor. Topped with chipotle-mango salsa, these tacos will transport your taste buds to a tropical vacation.
FOR THE CARIBBEAN JERK CHICKEN:
1 pound boneless, skinless chicken breasts
1 tablespoon Frontier Co-op® Organic Caribbean Jerk Seasoning
2 teaspoons neutral oil
FOR THE MANGO SALSA:
2 ripe mangos, diced
1 medium red bell pepper, diced
½ large lime, juiced, or 2 tablespoons bottled lime juice
½ teaspoon agave nectar
⅓ cup green onion, chopped
Directions
To Make the Chicken:
Preheat grill, or warm a cast-iron skillet.
Cut chicken breast(s) lengthwise, butterflying them open.
In a bowl, combine Jerk Seasoning, oil and chicken. Dredge chicken in seasoning, thoroughly coating all sides. Set chicken aside to marinate while preparing salsa (see directions below).
Cook chicken for 6 minutes on each side, or until internal temperature reaches 165 degrees.
Let chicken rest for 5 minutes, then cut into strips.
Serve in a warm corn tortilla with mango salsa.
To Make the Mango Salsa:
In a 1-quart (or larger) bowl, combine all salsa ingredients and stir until incorporated.
Refrigerate until ready to serve.