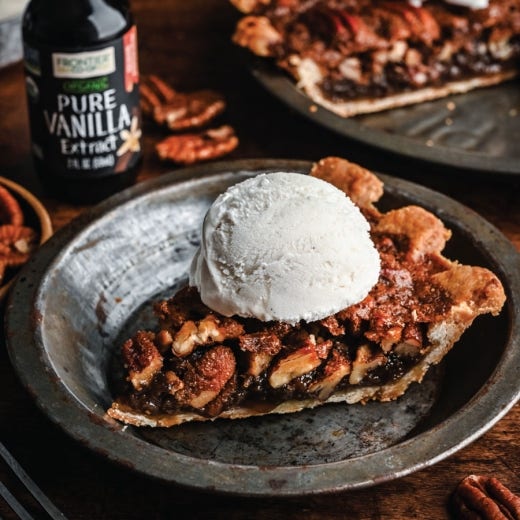 Put the perfect finish on your holiday dinner with this luscious pecan pie featuring the buttery-smooth sweetness of Frontier Co-op® Pure Vanilla Extract.
1 9-inch deep-dish frozen pie crust, thawed in refrigerator
1/4 cup butter, softened
1 cup brown sugar, firmly packed
3 large eggs
1/2 cup light corn syrup
1 1/2 heaping cups pecan halves, roughly chopped
1 teaspoon Frontier Co-op® Pure Vanilla Extract
1/2 teaspoon Frontier Co-op® Sea Salt
Directions
Preheat oven to 375 degrees. Partially bake pie crust for 6 to 7 minutes, then remove from oven and reduce heat to 350 degrees.
Using an electric mixer, cream together butter, sugar, vanilla and salt. Beat in eggs 1 at a time.
Mix in corn syrup, then stop mixer and use a spatula to fold in pecan pieces.
Pour filling into pie crust and bake for 40 to 45 minutes, or until a knife comes out clean. Let cool, then cut and serve.
NOTE
Pie is done when it is set around the edge and is not visibly jiggly or liquidy in the center. You can also use a kitchen thermometer to determine doneness. The internal temperature should be around 200 degrees.