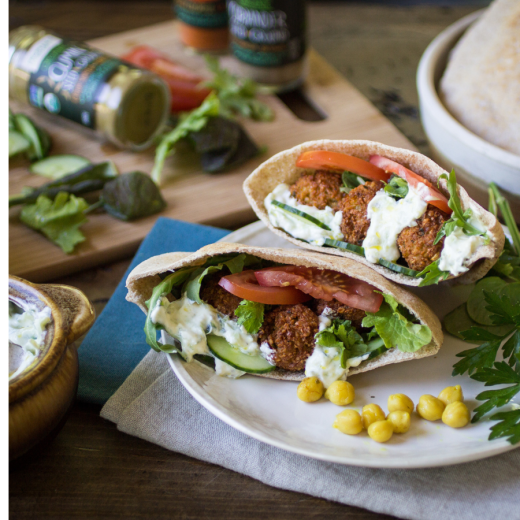 Falafel Pitas with Tzatziki Sauce
These flavorful pitas are stuffed with spiced falafel and crisp vegetables, then topped with a creamy, refreshing tzatziki sauce.
Directions
In a food processor, combine chickpeas, onion, garlic, parsley, flour, 1 teaspoon salt, cumin, cayenne, coriander and black pepper. Pulse until mixture begins to stick to itself, being careful not to over process into a puree. Cover and chill in refrigerator for at least 1 hour. Meanwhile, prepare the tzatziki sauce.
Squeeze liquid out of the grated cucumber, then place in a large bowl. Add yogurt, garlic, olive oil, vinegar, dill and remaining 1/2 teaspoon salt. Cover and chill in refrigerator until ready to serve.
In a large pan over medium heat, heat about 2 inches of grapeseed oil to 350 degrees. While the oil is heating, in a small bowl, combine baking powder and water. Whisk until well combined.
Remove falafel mixture from the refrigerator and stir in baking powder solution. Use your hands to form the falafel mixture into 32 walnut-sized balls. Working in batches, fry falafel in oil for 4 to 5 minutes total, turning once. Place cooked falafel onto a paper towel lined plate to drain. Allow oil to return to temperature between batches. (Note The mixture may only loosely form into patties or balls. That's okay as the falafel will stick together well once it hits the hot oil.)
To prepare the sandwiches, spread the tzatziki sauce into the inside of each halved pita. Place 4 falafel into each pocket. Top with cucumber, tomato and arugula. Serve immediately.