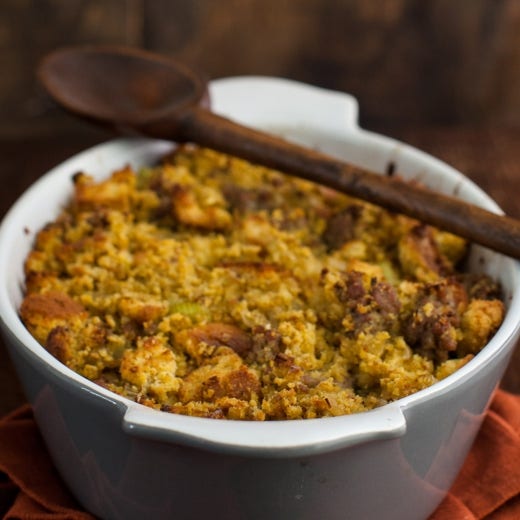 Gluten-Free Cornbread Stuffing and Sauteed Leeks
Add gluten-free stuffing to the menu and pack it full of flavor with sweet cornbread, silken sautéed leeks and fragrant rosemary.
Directions
To make cornbread, preheat oven to 350 degrees and lightly grease a 9x9-inch pan. Combine dry ingredients for the cornbread in a medium bowl. In a separate bowl, whisk together eggs, maple syrup, melted butter and milk. Pour the wet into dry ingredients and stir until combined.
Pour batter into the prepared pan and bake for 18 to 20 minutes. Cornbread should be golden and spring back when pressed. Remove from oven and let cool.
Once cornbread is cool, cut into ½-inch cubes and spread onto a baking tray. Return to a 350 degree oven and bake until cornbread begins to dry out, about 15 minutes.
To make stuffing, heat olive oil and butter in a high-sided skillet over medium-low. Using the white parts of the leeks only, slice into half moons and wash thoroughly. Add to the pan and saute until tender, 6 to 8 minutes. Add diced celery and cook for another 2 to 3 minutes.
Next, add the sausage, crumbled rosemary and white pepper to the pan. Cook until the sausage is brown, 6 to 8 minutes. Add the wine to the pan and loosen up anything stuck to the bottom of the pan. Turn off heat and add the cornbread and vegetable broth to the pan. Lightly toss everything together.
Scoop the stuffing into a 9x9-inch pan or a dish similar in size. Bake at 350 degrees for 20 to 25 minutes. Top of the stuffing should be brown and the center should be warm.
Recipe Note:
Preferably, cornbread should be made 1 to 2 days ahead of time to allow time to dry out slightly. If using vegetarian sausage, cut into small pieces before adding it to the pan.