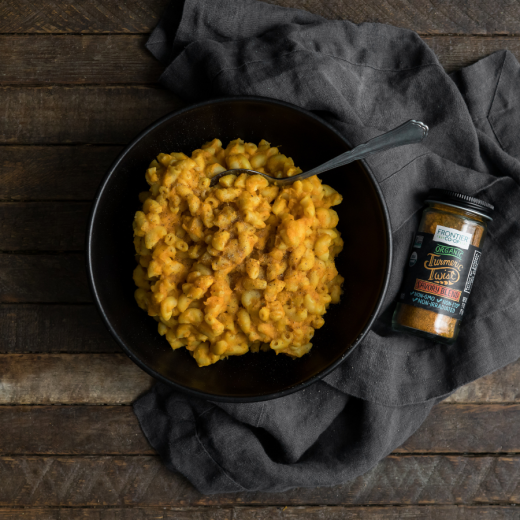 Vegan Sweet Potato Macaroni and Cheese
A delicious vegan riff on macaroni and cheese using sweet potatoes, our Savory Turmeric Twist blend, and nutritional yeast in place of cheese. Don't knock this vegan mac and cheese recipe 'til you've tried it!
Directions
Fill a medium pot 1/2 to 2/3 full of water, add a pinch of salt and bring to a boil. Add sweet potato and cook for 15 to 20 minutes, until tender. Drain and mash until smooth, adding a splash of almond milk as needed.
While sweet potatoes are cooking, in a medium saucepan over medium-low heat add 1 cup water and pasta. Bring to a simmer, stirring frequently to separate pasta. Stir in the 1 1/2 cups almond milk and reduce heat to low. Cook and stir for 10 to 12 minutes, until pasta is tender and most of milk is absorbed. Add more milk if pasta isn't cooked through.
Stir in sweet potato mash, salt, pepper, nutritional yeast, turmeric blend and garlic powder. Continue warming over low heat (it helps if the sweet potato is still a bit warm). If sauce is too thick, add more almond milk to desired sauce consistency. Once mixture is hot, remove from heat, and serve.