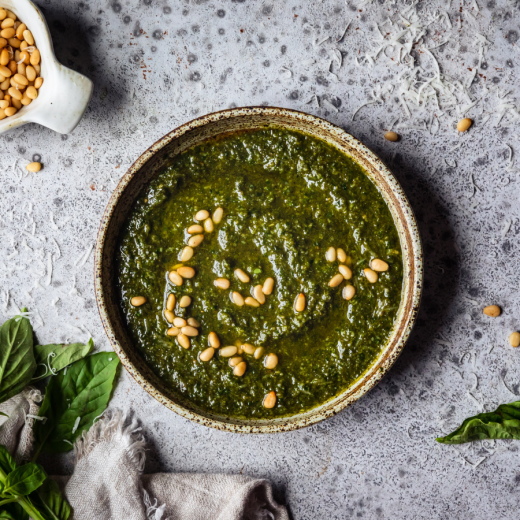 This homemade pesto is a delicious way to get your daily dose of greens. Made with fresh basil and baby spinach, this pesto is so versatile. It goes incredibly well on toasts, scrambled eggs, soups, or simply to toss it up with your favorite pasta. The pine nuts give it subtle nuttiness while the parmesan gives it an incredible depth of flavor. This pesto freezes incredibly well too. Straight from our recipe developer: I like to freeze mine in an ice cube tray which allows me to always have a stash of homemade pesto in my kitchen — simply toss it in your pan and you're good to go. It also comes together really quickly, making it one of my go-to sauces for a busy weeknight pasta dinner.
Directions
In a food processor, combine basil, spinach, pine nuts or walnuts, moringa powder, garlic and salt, and process until very finely minced.
With machine running slowly, pour in oil and process until smooth. Add cheese and process very briefly, just long enough to combine.
Toss with your favorite pasta.
Store in refrigerator, or freeze for later use.