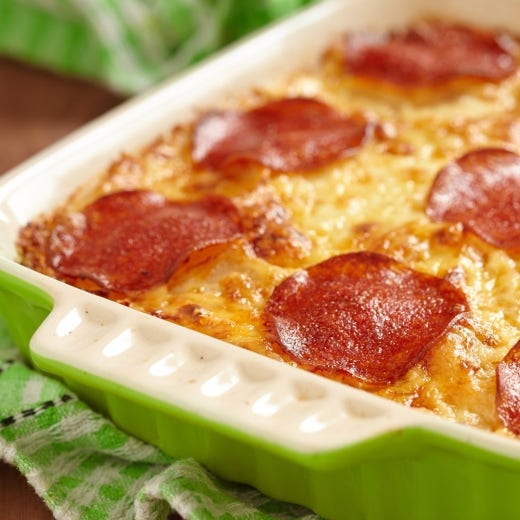 This potato-layered, grain-free pizza casserole takes a unique approach to Italian cuisine. In lieu of bread, potatoes are used as a binding agent to hold all the cheesy and veggie-packed goodness inside. For a meat-laced version, add cooked sausage, chicken, chorizo or your favorite pizza toppings.
2 cups diced potatoes, divided
4 ounces chopped mushrooms, divided
12 ounces cheddar cheese, shredded
2 teaspoons Frontier Co-op Pizza Seasoning
12 ounces mozzarella cheese, shredded
15 ounces tomato sauce, no salt added
Directions
Soak potatoes overnight in 3 cups water.
Spread half potatoes on bottom of baking dish. Layer with half mushrooms and all of the cheddar cheese. Sprinkle half of the Pizza Seasoning on top. Repeat with remaining potatoes, mushrooms and mozzarella cheese.
Pour on tomato sauce. Spread sauce evenly over top, and sprinkle with remaining Pizza Seasoning.
Bake at 350 degrees for 45 minutes.
Recipe Tip:
Any additional pizza ingredients you love may be added.