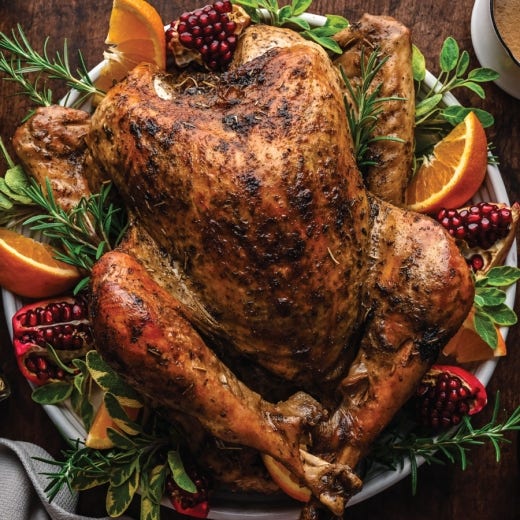 Roast Turkey with Savory Herb Rub
Elevate the centerpiece of your holiday feast with an infusion of distinctive flavors from an expertly balanced herb rub featuring responsibly sourced Frontier Co-op® Rosemary, Sage, Thyme and Garlic.
14-pound turkey
1/2 cup olive oil
2 tablespoons Frontier Co-op® Rosemary Leaf
2 tablespoons Frontier Co-op® Ground Sage
1 tablespoon Frontier Co-op® Cut & Sifted Thyme Leaf
1 tablespoon Frontier Co-op® Parsley Leaf Flakes
1 tablespoon Frontier Co-op® Sea Salt
2 teaspoons Frontier Co-op® Garlic Powder
2 teaspoons Frontier Co-op® Onion Powder
1 teaspoon Frontier Co-op® Medium Grind Black Pepper
1 1/2 cups low-sodium chicken broth
2/3 cup dry white wine*
Directions
In a roasting pan with wire rack, place turkey. Using paper towels, pat turkey completely dry, then rub turkey with just enough olive oil to lightly coat.
In a bowl, combine all herbs and spices.
Carefully lift skin from breast and thighs of turkey and rub a generous amount of herb mixture directly onto meat. Rub inside cavity and outside of turkey with remaining dry rub, evenly covering the surface.
Cover with aluminum foil and refrigerate for at least 6 hours, or overnight. Allowing turkey to rest with dry rub will enhance flavors.
Preheat oven to 425 degrees. Remove turkey from refrigerator and let sit at room temperature for about 30 minutes. Pour chicken broth and white wine into bottom of roasting pan.
Roast for 30 to 40 minutes, uncovered, until skin is lightly golden brown. Reduce heat to 325 degrees, cover turkey with foil, and roast for around 3 to 4 hours, basting every 30 minutes or so with pan juices. Turkey is done when center of breast reaches 165 degrees and thigh reaches 175 degrees. Let turkey rest for 45 minutes before carving.
NOTE
*For an alcohol-free alternative, use white wine vinegar, apple cider or white grape juice, alone or in a combination.