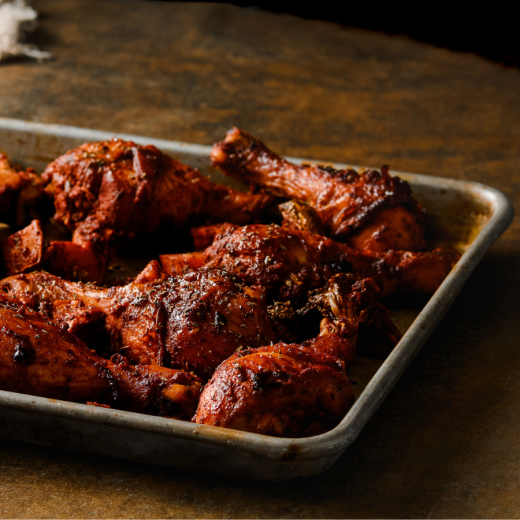 Sheet Pan Aleppo Chicken & Vegetables
Chicken drumsticks take on luscious flavor — and a gorgeous look — with the pleasant heat of Aleppo chili pepper paired perfectly with sweet potatoes, Brussels sprouts and the best complementary seasonings in this irresistible sheet-pan chicken recipe.
Directions
In a bowl, combine Aleppo Pepper, Kosher salt, all remaining seasonings, brown sugar, olive oil and lemon juice. Whisk well to combine, and set aside.
In a separate bowl or dish, pat chicken dry. Add about ¾ cup marinade to chicken. Mix and rub very well to distribute marinade through all drumsticks. Let chicken marinate for at least 15 to 20 minutes.
Meanwhile, preheat oven to 350 degrees. Place sweet potatoes, Brussels sprouts, and shallots on a sheet pan (18 x 13 in.). Pour remaining marinade over vegetables and toss to combine. Place chicken on top of veggies. Sprinkle top of chicken with paprika for extra color (optional).
Cover sheet pan with aluminum foil and bake for 25 minutes. At 25 minutes, baste chicken with its juices, re-cover and bake for an additional 20 to 25 minutes, or until vegetables are cooked through and meat reaches an internal temperature of 175 degrees. For a crispier skin, uncover and broil at 525 degrees for 2 to 3 minutes.
Remove from oven and serve.
Recipe Tips:
The chicken can be marinated overnight, if desired.
It is important to place the chicken on top of the vegetables so the juices that release from the meat can flavor the veggies. It is also important to cover the sheet pan throughout bake time, otherwise the juices may release and burn onto the sheet pan instead of remaining juicy.
A meat thermometer is very helpful to ensure that the chicken is both fully cooked and moist.