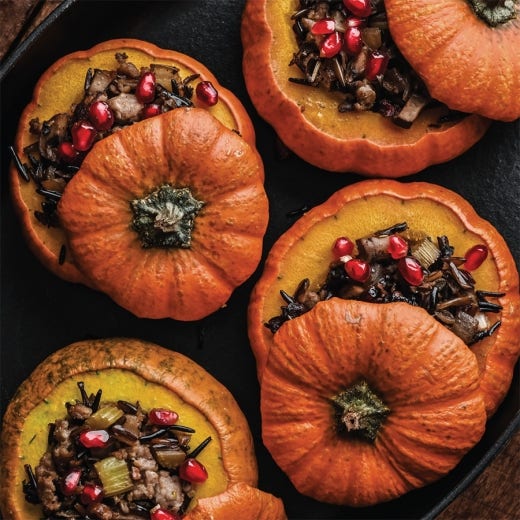 Stuffed Mini Pumpkins with Italian Sausage
Grace your Thanksgiving table with these stunning mini pumpkins, stuffed with wild rice, Italian sausage, mushrooms and dried cranberries; all expertly seasoned with Frontier Co-op® herbs and spices.
2/3 cup uncooked wild rice (makes about 1 1/2 cups cooked)
4 larger or 6 smaller mini pumpkins
6 ounces Italian sausage
1 tablespoon olive oil
1/2 cup yellow onion, diced
3 ounces mushrooms, chopped
1/2 cup celery, diced
1 1/2 tablespoons chopped parsley
1/3 cup dried cranberries, roughly chopped
1/2 teaspoon Frontier Co-op® Ground Sage
1/2 teaspoon Frontier Co-op® Rosemary Leaf
1/4 teaspoon Frontier Co-op® Garlic Powder
1/4 teaspoon Frontier Co-op® Onion Powder
1/2 teaspoon Frontier Co-op® Sea Salt
1/4 teaspoon Frontier Co-op® Black Pepper
Pomegranate arils, for garnish (optional)
Directions
In a pot, cook wild rice according to package directions.
Meanwhile, cut off tops of pumpkins, reserving tops, then scoop out seeds with a spoon. Set pumpkins aside.
In a large skillet, add sausage and sauté until browned, breaking it apart with a spatula. Remove sausage from pan and set aside.
Add onion and sauté for about 5 minutes, until translucent. Add mushrooms, celery, parsley, dried cranberries, sage, rosemary, garlic powder, onion powder, salt and pepper, and cook for 5 to 6 minutes.
Stir in cooked wild rice, sausage and olive oil.
Stuff each pumpkin with about 1/2 to 2/3 cup of filling, packing it in with a spoon. Place on a baking sheet, replace pumpkin top and bake for 40 minutes.
Remove from oven, carefully transfer pumpkins to a serving tray. Offset the tops slightly and garnish with pomegranate arils, if desired.