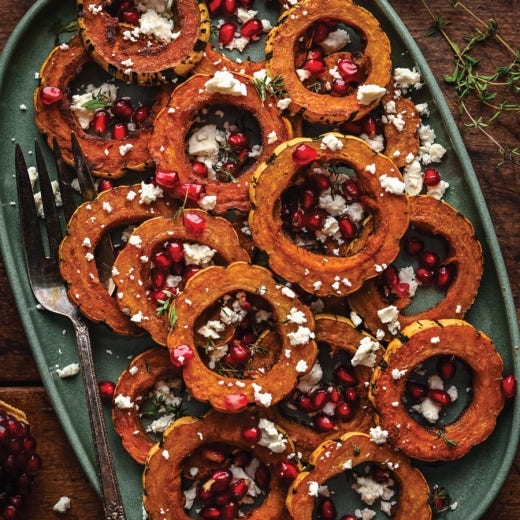 Create these delicious squash wreaths for a beautiful holiday presentation and treat your guests to a wonderfully flavorful side dish that perfectly balances savory spices with a touch of sweet cinnamon and warming cayenne.
Directions
Preheat oven to 400 degrees.
Slice each squash into 1/2-inch thick rounds. Use a spoon to remove seeds.
In a small bowl, stir together olive oil, cumin, coriander, salt, cinnamon and cayenne.
Lay squash circles out on 2 large baking sheets. Brush one side of squash with oil and spice mixture; flip over and brush other side.
Roast for about 20 minutes, carefully flipping them halfway through. Squash circles are done when fork tender.
Remove from oven and arrange on a large serving platter. Top with pomegranate seeds, crumbled feta cheese and parsley or thyme.
NOTES
You can roast squash circles for a snack with a little olive oil and any of your favorite spices!