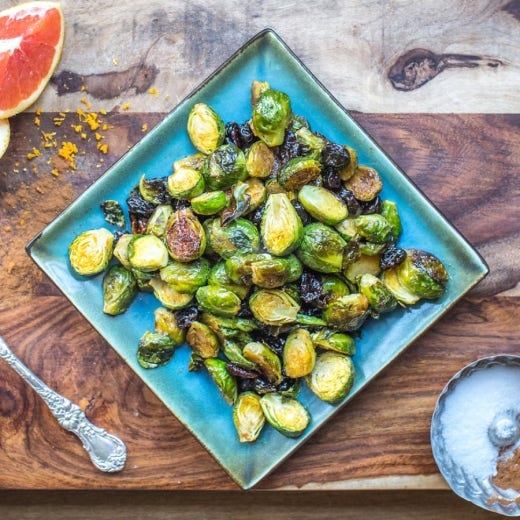 Roasted Brussels Sprouts with Cranberry Orange Marinade
Accent roasted Brussels sprouts with a seasonal, citrusy-sweet cranberry, orange and cinnamon marinade.
Directions
Before baking, marinate Brussels sprouts for 1 to 2 hours. Prepare Brussels sprouts by cutting the stem off and slicing in half. In a bowl, combine the Brussels sprouts and cranberries. In a separate bowl, whisk together the maple syrup, cranberry juice, orange juice, olive oil, cinnamon, sea salt and orange zest. Pour over Brussels sprouts and toss until coated. Cover and set aside.
While Brussels sprouts marinate, preheat oven to 425 degrees.
When oven is ready, spread Brussels sprouts in a single layer in a roasting pan. Pour any remaining marinade over the Brussels sprouts.
Roast for 30 to 35 minutes until the Brussels sprouts are tender and slightly charred. Serve warm.
Test