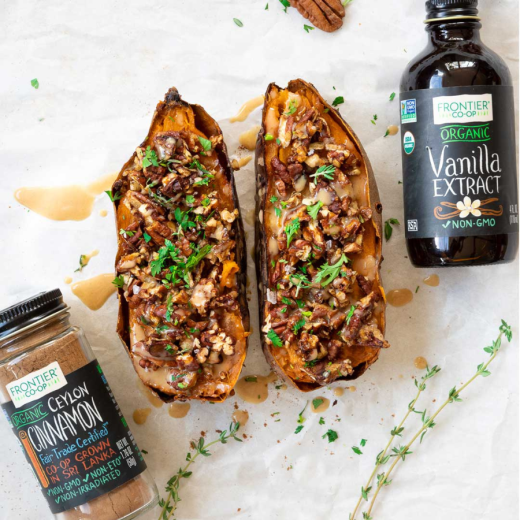 Twice-Baked Stuffed Vanilla-Cinnamon Sweet Potatoes
In this amazing @TheFeedfeed recipe, sweet potatoes are roasted, then the flesh is scooped and mashed with Frontier Co-Op Ceylon Cinnamon and Organic Vanilla Extract. Stock your spice cabinet with Frontier's Ceylon cinnamon, sometimes referred to as "true cinnamon," to bring a more delicate and sweet flavor to baked goods or fragrant stews than other varieties of cinnamon. Frontier's Vanilla Extract is made with no added sugars and has a sweet, buttery finish, which is ideal for all of your holiday baking needs or for lending an unexpected floral aroma to dishes such as these sweet potatoes! Spooned back into their jackets and topped with cinnamon and maple pecans, a creamy tahini drizzle and garnished with fresh herbs, these potatoes make a statement on any holiday table. To garnish like a pro, use a mixture of herbs, maybe keep a few leaves whole and don't think too much about it. An effortless sprinkle of flakey salt and herbs before serving is all you need to make these pop!
Directions
Preheat oven to 375 degrees. In a small bowl, combine pecans, maple syrup, cinnamon and salt. Set aside.
In another small bowl, combine tahini, maple syrup, cinnamon. Add warm water, one to two tablespoons at a time, to reach a drippy consistency. Set aside.
Line a baking sheet with parchment paper. Using a fork, prick sweet potatoes a few times and place on parchment. Bake for 45 to 50 minutes until tender. Baking time will vary depending on size of sweet potatoes.
Remove from oven and reduce temperature to 350 degrees. Allow sweet potatoes to cool. Slice in half lengthwise and scoop out flesh, leaving a ¼-inch border inside skin. This should yield about 1½ cups flesh. Mash with a fork. Add maple syrup, vanilla, cinnamon and salt, and mash until smooth.
Arrange potato skins on baking sheet. Scoop filling into skins and sprinkle with Maple Pecan Crumble. Bake for 15 to 20 minutes until pecans are golden brown. Drizzle with tahini and garnish with herbs before serving.